Summer Tart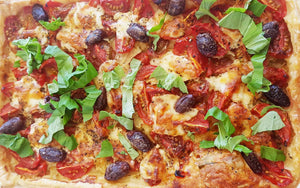 1 small to medium fennel bulb
2 tbsp butter 100g tasty cheddar cheese
500g vine-ripened tomatoes
150g fresh mozzarella or bocconcini
1 tbsp Italian Herb Seasoning (Spice Traders)
Fresh basil leaves for garnish
Cut the pre-rolled pastry to fit a 30cm x 20 cm tart tin. Keep aside so that is rests and will not shrink when it is cooked.
Preheat the oven to 200°C, placing a heavy oven tray to heat so that when you place the tart in the oven directly on this tray, the pastry will start to cook immediately.
Slice the fennel as thinly as possible, using a mandolin or a super-sharp knife.
Melt the butter in a heavy frying pan and add the fennel. Cook this over gentle heat until it is soft and starting to turn golden. Turn it out onto a plate to cool while you prepare the other ingredients.
Grate the cheddar, cut the tomatoes into halves and slice the mozzarella or bocconcini. You are now ready to prepare the tart for the oven.
Scatter the grated cheddar over the pastry in the tart tin. Spread the fennel fairly evenly over the cheddar. Next form a layer of the tomatoes and place the mozzarella or bocconcini slices on top. Finally sprinkle the Italian herb seasoning over everything, and place the prepared tart in the oven directly on the heated tray.
Bake for 20-25 minutes or until the tart puffs up and top is golden. Remove from the oven, decorate with sliced fresh basil leaves and serve at once. Serves 6 for lunch with a crisp green salad.
Recipe / Lauraine Jacobs